For generations, the Hans Mueller brand of sausage and specialty meats has been enjoyed by countless meat lovers all over the world. As a proud winner of numerous European and American awards for taste and quality, Hans Mueller continues to deliver mouth-watering food to people's tables every day. In fact, you can experience the same level of quality that won competitions at the Copenhagen and Utrecht International Conferences – and enjoy the same standards that received quality control citations from the German Department of Agriculture (DLG). These awards are proudly displayed at our main office in Dallas, Texas.
Our delicious hand-crafted recipes and the art of old-country sausage making have been preserved for today's generation through our trusted partnership with Farm Pac Kitchens. Our mixture of fine pork, beef and a special blend of top-quality herbs and spices is ready to be delivered right to your door.
Our Favorites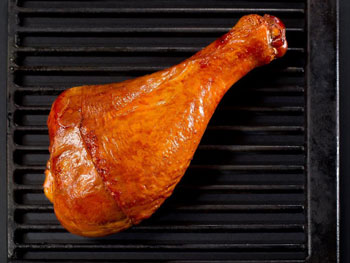 Giant Turkey Legs
Farm Pac offers these Giant Turkey Legs smoked to perfection for your enjoyment – at home, on picnics or at family and corporate events. These are the same smoked turkey legs served at festivals all across America! Buy Giant Turkey Legs and a variety of smoked meats at Farm Pac.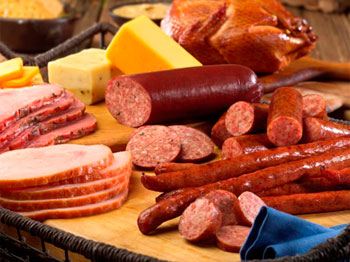 Deluxe Sampler Meat Gift Basket
With the Farm Pac Deluxe Sampler you get a taste of all the best smoked meats! It's a great sampler of smoked meats that is hand-selected to feed a crowd. A perfect gift of delicious meats and cheeses for foodies young and old. Buy Farm Pac's Deluxe Sampler for your next party!